Congratulations to our very own Joy Letendre of Lino Lakes, MN for finishing in the Top 5 nationwide in the 2020 Farrell's National Contest! This contest is a 12 month long effort where members compete for the best overall transformation. As tough as this year long contest is on its own, 2020 handed these contestants with huge hurdles, including having most our our locations shut down for months on end. Read her story below.
Farrell's Got Me Off the Hamster Wheel I Was Stuck In
At the close of 2018, I felt like I was stuck in a rut. I had been working the same job for 18 years, my husband and I lived in a little town home with our two little girls, and I kept losing and gaining back the same 20 pounds. After having our two beautiful girls, I never dropped the extra baby weight. I felt like a hamster stuck in its wheel, not making any changes to truly better my life.
I had tried a couple Farrell's classes in early fall 2018, and I will never forget my first kickboxing class. I came in on a Week 10 workout and felt like I was going to die. What surprised me most was even though I was red in the face and sweating profusely, it felt like the 45 minutes just flew by. I enjoyed the classes, but I wasn't yet fully ready to make the investment in myself.
A little while later a friend shared a Farrell's Facebook post. I thought "I know this will work if I commit to it." As the calendar turned to 2019, I was ready to start a new adventure. I went to orientation and was so excited! I was amazed that the coming 10 weeks came with a meal plan too, I thought it was just a workout. At Orientation they asked "Who's going to win the $1000?" Everyone was quiet, but slowly some hands started going up, including my own. I felt like I had everything I needed to succeed – a meal plan, a workout routine, and a friend in my class.
Those 10 weeks were a challenge. I attended every day the first week and got an attendance sticker. Those stickers are great motivation as was my coach! Weeks went by, I turned in food logs, got more stickers, and I was noticing my clothes getting baggier.
The instructors really help you to push yourself and try things you don't believe you can do. On week 4 I was encouraged to try a push-up from my toes. I was hesitant but tried and did 10! Farrell's gives you confidence and the drive to not make excuses. I was building trust in my instructors and wanted to hit the gym every day. I was following the meal plan and at the end of my session I lost 20 pounds. After I was announced as the 10-week winner, I thought "I did this in just 10 weeks. If I stick with it for a whole year, what else could I accomplish?"

I signed up for the year-long challenge, and it was one of the best decisions I've ever made. I was reclaiming my life – I was changing and gaining more confidence! My coach throughout this journey was/is incredible! Although I was intimidated by her at first, she never put me down for failing – instead she encouraged me and told me I'm stronger than the temptations. She was right – I can say NO! She helped me unleash my inner strength – that mental toughness you need to change your lifestyle. The gym became a support system as well as a home away from home.
This new empowerment helped me take on other challenges in my life. With my growing confidence, I decided to step up to a new position at work and became the bank manager of the busiest branch in my state. My husband and I put our town home up for sale and made on offer on our forever home. Shortly after that the gym approached me to become an instructor. It looks fun, so I said yes! I was excited to share my enthusiasm for Farrell's – praising others for their achievements, letting them know they are missed when they're away, and encouraging others to try push-ups from their toes.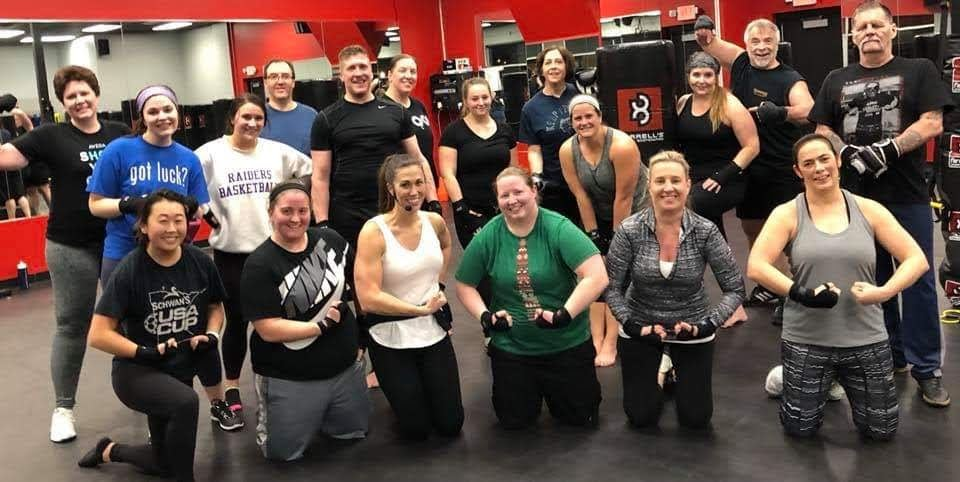 Looking back, I hardly recognize the old me. I was overweight and complacent. Now I'm strong and confident, willing to take risks and grow in every area of my life. Being a working mother, I used to feel guilty about taking extra time away from my kids to go to the gym. When I asked them about how I've changed over the past year, they say I am happier now. In the beginning it was hard to justify the 45 minutes for myself each day. Now I KNOW 45 minutes dedicated to myself is well worth the investment so I can continue to be that "happier" version of myself when I am with them. My girls love the changes and that I'm a #strongmom. Farrell's changed my life in every way, and I'm so thankful to finally be off the hamster wheel, for good.
Strong is the new beautiful.
If you'd like to learn more about how the Farrell's program may help you achieve your health and wellness goals, please contact us today!
*