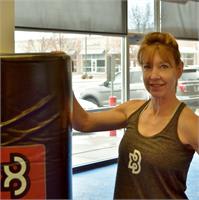 Kim Gulli
First impressions: I walked into the brand new Farrell's in White Bear Township (2013): I was greeted with a big smile and sincere welcome. One of the many questions I asked was "Am I too old for this?", which was met with a head shake and laughter. I knew then, this was the place for me (and am still greeted with a sincere welcoming smile each day!).
Why FXB: I have been fairly active over the years, always looking for that new game to keep me going: Farrell's answered this call, and continues to throw something new my way to keep me interested. Workouts never get easy at Level 10! I thought I was in pretty good shape too: I have never been in better shape, better tone, better fueled (nutrition) in my whole life. Thank you, Farrell's! My enthusiasm for the program has spread to my family and friends. My husband is also an original member of the WB FXB family; our daughter attends when she is home from college. Several friends and neighbors have also joined Farrell's (multiple locations). Speaking of friends: my circle has grown so much. I have never been with a more encouraging, motivating, supportive, caring, positive community.
Member then Coach then Instructor: Never in my life did I think I would be standing in front of a group, leading the challenge and going for it! I love helping others achieve their goals by being energetic, focused and a good role model. Form is very important to me, so I'll spend the time to emphasize proper technique to help you obtain results and prevent injuries. I want YOU to know what MUSCLE group YOU are strengthening. "Let's go!" Things you may not know about me: I have stage fright (really!); I'm an ophthalmologist (eye surgeon); I still take piano lessons; I ballroom dance with my husband; I do medical mission work; I enjoy skiing, biking, jogging (ran my 1st 5K in 2015), playing with our dog, cooking, hanging with friends and family.
Things you do know about me: I am proud of my children and husband! I love to laugh! I love to push you! I'm the last one to leave (and often the last one to arrive!).
Keep SQUEEZING!