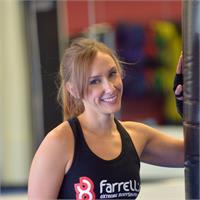 Jillian Faber
I was raised in a single parent home, which means diet and exercise were not a top priority in my household. I watched a lot of TV, drank a lot of pop (at least 2 liters a day) and ate a LOT of junk! I was addicted and I had no concept of proper nutrition. Fast food was a necessity. By the time I got to high school I saw myself continue to gain weight while most of my peers grew taller and skinnier. I realized something was wrong but had no idea how to pinpoint the cause or how to change it.
For Lent one year, I gave up soda. It wasn't for dieting reasons, but because of a science experiment that showed the effect it had on teeth! I lost 12 pounds just from giving up soda. It was at that point that I started to learn about nutrition and to exercise independently. I picked up recreational running, joined a couple of sports teams and got back down to a comfortable weight. I saw my attendance in school improve because I was sick less often, I felt better and had more energy. I was happier and was hooked on living a healthy lifestyle!
As an adult I still worked out 2-3 times a week. I even got up one day and ran a half marathon with no training (I couldn't walk the next day but I did it!). Unfortunately, working at a computer all day was not conducive to the active lifestyle I desired and there was no shortage of junk food in the office either! I started to gain a bit of weight again and was falling into a bad place where I was tired and unhappy with myself. Fast forward to a phone call I received from my brother-in-law telling me about the Farrell's program. I decided to move to Minnesota from Buffalo, NY and give the program a try... after a week I was hooked! I had never done a class that had me using all of my muscles so effectively and motivated me to work out to a level I didn't know I was capable of. Not to mention, the nutrition program was just what I needed to get back on the good choice wagon. The 10-week party was what sealed the deal. Once I saw how many people's lives were changed in just 10-weeks and how healthy everyone had come, was truly an inspiration.
I want to help everyone feel better, stronger, healthier and more confident. This program is not just a physical makeover, it's a total body transformation, from the inside out. Who wouldn't want to be a part of that?